The first leg of our three week campervan trip in New Zealand was from Christchurch to Queenstown. We flew in to Christchurch in the middle of high season and lucked out by finding a budget campervan advertised on the street.
When we decided to go to New Zealand we really had no idea of the specifics where we'd go, we just knew there was a ton to see. A guy that we met our first night had highly recommended seeing Lake Tekapo on the way to Queenstown. Just like that, we had our first destination in mind.
On the way out of Christchurch there wasn't a whole lot to see at first. According to Google Maps it takes 2 hours and 52 minutes to get from Christchurch to Lake Tekapo. Usually we find that it ends up taking another 25-50% longer from stopping for photos and viewpoints. This drive was different though, we were so excited to get to the stunning Kiwi nature we had heard about that the basic mountains didn't phase us.
A little over two hours into the drive we came across a local Māori guy whose car had broken down on the side of the road. He was really anxious because he was a musician and had agreed to perform at his friends wedding, but all of his sound equipment was in his SUV and the clutch burned out. We offered to give him a ride to Tekapo ahead so he could talk with a shop because his phone wasn't working, but mine ended up getting reception so he could call a tow truck. I have no idea what happened to him but hopefully he made it to the wedding, he was a really nice guy!
Arriving at Lake Tekapo
At that point we were about 30 minutes outside of Tekapo and the incredible scenery that would continue and morph throughout the rest of the South Island began. The Mackenzie mountains slowly rose up with their dry, brown slopes. Eventually we came around the corner and saw the electric blue water of Lake Tekapo. This was our first taste of the incredible blue glacier water that's scattered around New Zealand. Here's a picture from the lake shore, I promise it isn't edited for bright colors:
We spent the afternoon alternating between freezing ourselves numb in the lake and soaking up the sun and glorious heat from the smooth stones on the "beach". I say "beach" because it's really a bunch of round smooth stones around 5cm, not anything like sand at all. It was actually kind of nice though because you don't get covered in sand and the stones hold the suns heat really well so you have something to warm you up again after the glacier lake sucks away your body heat.
It may sound miserable getting into a freezing cold lake but honestly this is one of my favorite things to do, and most people loved it. It's pretty tough while you're in the water, if you open your eyes under water you get a brain freeze pretty quickly and it's kind of painful. I'm not really selling this am I? BUT when you get out and the sun is beaming down on your skin you feel like you were born again. It's amazing!
Where to eat at Lake Tekapo
This is a tough one. It will depend on if you're on a budget or not. There are three main options for where to eat in Tekapo:
Restaurants
We ate at a Thai & Korean restaurant while we were in Tekapo. It's right on the main (eh only) street near the supermarket. We each got a different curry, a Penang curry and a Green curry. Both were really underwhelming. They made it super heavy on coconut milk with very little curry paste so it really didn't have the amazing flavor you'd hope for out of a Thai curry. Some of the other dishes looked like they might have been better, but definitely not remarkable.
The menu was also half Korean so I think that might have been worth experimenting with. The meal was also pretty expensive, it came to $20+. If this place was in a big city it would be out of business overnight, but considering they're delivering Thai food in a tiny town with very few other options, you can't really complain.
Run 76 coffee shop:
This is the only place in town that you can stop to hop on the WIFI as far as we found. The food was pretty good for Tekapo. They had some sandwiches and a good variety of coffee drinks. I had a smoked salmon sandwich which was a good way to fuel up before the Mount John Observatory hike.
If you need to get on WIFI for a bit, stop in for a drink or a bite to eat.
The backpacker special: the supermarket
There's always the supermarket right next to the Thai restaurant if you're looking for somewhere to grab some ingredients to take back for a camping meal. You can also fill up on fruit and nuts for some solid hiking food. Overall the supermarket isn't very well stocked like most of the South Island of New Zealand. There just isn't a whole lot of fresh produce on offer and it's pretty expensive.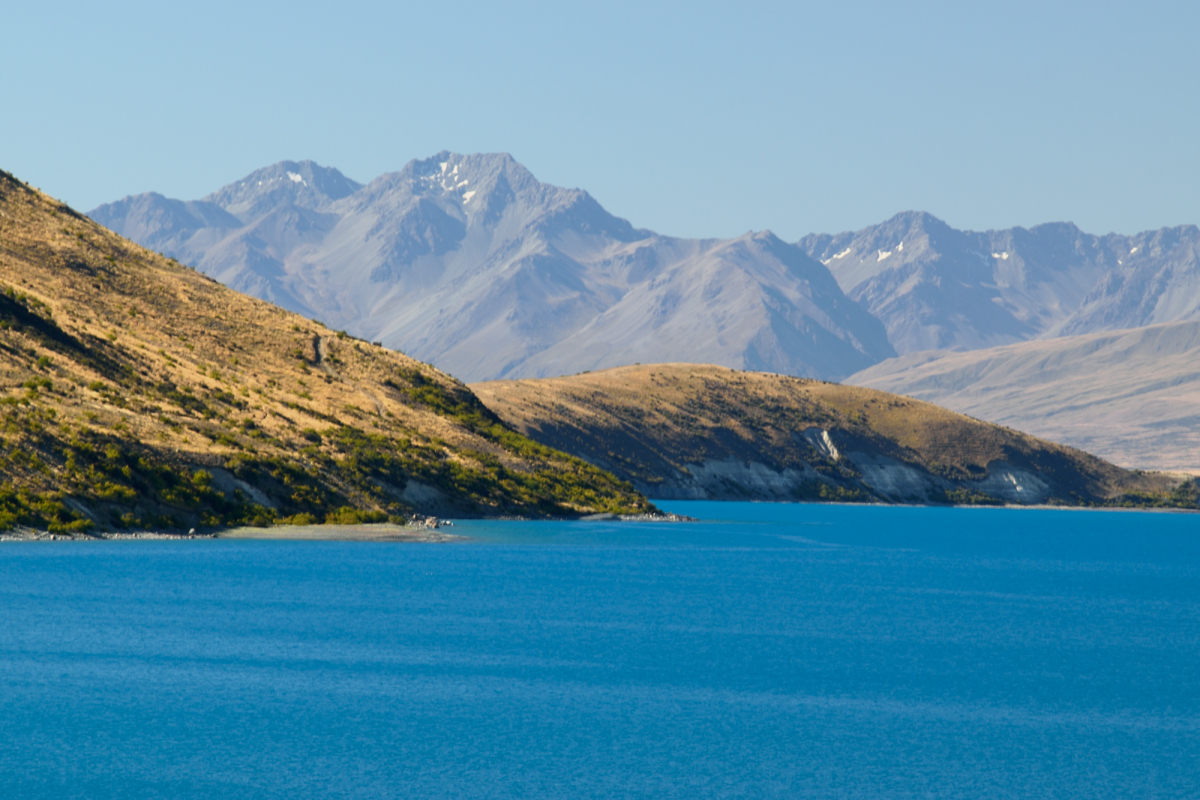 Camping at Lake Tekapo
After some searching and talking with locals we ended up finding a budget campground that doesn't require you to have a self-contained campervan. I believe it was $5 per person for the night. You pay based on an honor system with a small deposit box on the right side of the entrance to the campground.
The Alexandrina campground has:
toilets with toilet paper
running water (not potable so bring bottled water)
plenty of rubbish bins
tons of parking spaces
We stayed a couple of nights here and were a bit surprised that even though there were quite a lot of people there we didn't see a campground official the whole time, it seems completely unattended. This is NOT a place that you would want to go if you're looking for a quiet place to relax in nature. Being a cheap campground near Lake Tekapo makes it a hotbed for backpackers in campervans, so be aware of that before hand! We generally like a really quiet place to park up but a couple of budget nights here didn't really bother us because we had so much other time to spend in remote places.
Getting to the Lake Alexandrina Campground
From the Town of Tekapo you head out of town on Tekapo-Twizel Rd / Hwy 8 towards Lake Pukaki/Twizel. Around 500 meters to 1km after leaving town you'll see a sign to turn towards the Mt John Observatory, this is where you'll take a right onto the gravel road. It seemed to come up quick and unexpectedly so be on the lookout!
Once you turn onto the gravel road just stay on it, you'll see the driveway going up to the observatory on the right hand side of the road, just keep going. You'll then see the mountains in the picture below on the left hand side of the road. You've still got another 3-4 kilometers to go at this point. Be really careful on these roads especially if you're driving at night. They're really windy and the gravel is slippery, combine this with blind corners and cars flying around the corner and you may get closer to Lake Tekapo than you ever wanted to.
The Lake Alexandrina Campground will show up on the right side of the road, you won't be able to miss it with all the cars that are there if you're showing up in the high season.
Mount John Observatory Hike
One of the things that was at the top of our list at Lake Tekapo was to hike up the big hill surrounded by Lake Tekapo, Lake Alexandrina, and Lake McGregor. After asking around town we learned that it's called Mount John, and that there's a great trail all the way to the top, where the Mount John Observatory sits.
We were warned that despite being only 45 minutes to an hour each way, this hike would be quite intense. Even after quite a few big hikes in the weeks surrounding this one, like the Roy's Peak trail in Wanaka, we both agreed that although it didn't last very long it really was a beast. The trail zig-zagged back and forth with each stretch of the trail steeper than the last.
A lot of the trail leads you through a dense pine forest with occasional clearings for nice peek at the Town of Tekapo and a hint at what's to come. As the trail gets steeper and steeper shortcuts become increasingly common to skip the zig-zag trail and gun straight for the top (really slippery slopes though so be careful if you're ambitious enough for the shortcuts).
Once you get through the pine forest the trail opens up dramatically and the vegetation changes and slowly dies out. At this point you've only got a long staircase to go and you're at the peak! Make sure you look around and find the stone throne that looks out over Lake Tekapo, it's epic!